Icon Industrial Services is the best choice for your next structural steel installation project. Whether you are planning to build a complete new building or adding additional bays to your current facility, we are the right contractor to rely on for new construction services.
When erecting structural members, a critical factor is the fastening system used in every connection. Our teams are experts at ensuring every bolt is torqued to the correct specification. We frequently encounter tension control bolting systems and have the equipment necessary to install them correctly.
---
We're the Experienced Choice
Every year, the Icon Industrial Services team erects thousands of tons of steel as part of several new construction projects across the Central United States. Visit the Projects page to view case studies of our reputable structural steel services.
We are the qualified and experienced choice for steel erection services for a wide array of industries. Known for exceeding project expectations and goals, our crews are ready to take on your next new steel construction project. When working on structural steel projects, our main priority is safety. Our crews are trained to work at high elevations and we always require 100% tie-off fall protection above four feet.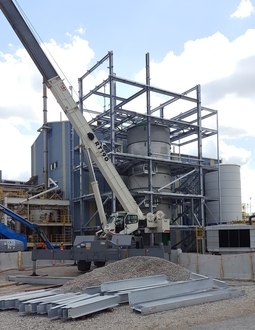 Our Structural Steel New Construction services include:
Complete building erection
Blast resistant structures
Equipment foundation setting
Installation of:

Towers, bridges, and trussed frames
Conduit and pipe support racks
Equipment supports and frames
Floor grating and girts
Work platforms and mezzanines
Caged ladders and stairs
Monorails
We also provide millwright and equipment installation. By choosing Icon for both the structural and millwright scope on your next new construction project, you can save on excess mobilization, crane, and training costs.
Contact us today to get started on your next new construction project!